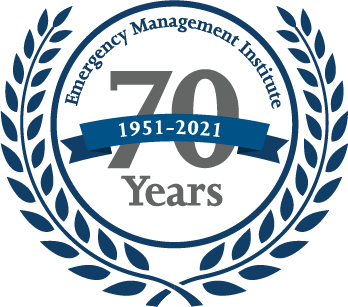 70th Anniversary Events

Monthly events will be announced on our social media platforms. Follow us as we announce events to celebate our 70 years or training, or check below regularly.
In line with the Emergency Management Institute 70th Anniversary and National Preparedness Month, FEMA's Emergency Management Institute (EMI) will host a webinar on National Incident Management System (NIMS) core and position specific course updates for the Incident Command System on Sept. 24.

NIMS ICS Webinar
National Preparedness Month

As part of its 70th Anniversary celebration, EMI will host an e-Forum overview of a new unit in the Executive Academy: an historical study of the Disaster at Gettysburg on Wednesday, October 13 at 3 p.m. Each day of the Civil War battle that took place in 1863 is framed within the context of an evolving disaster, and includes a virtual guided tour narrated by a licensed battlefield guide.

e-Forums
Executive Academy

As part of EMI's 70th Anniversary celebration, the Integrated Emergency Management Branch will host an e-Forum on the history and impact of IEM Branch programs. The event will take place on November 30, 2021 from 3-4pm EST utilizing the Adobe Connect platform.