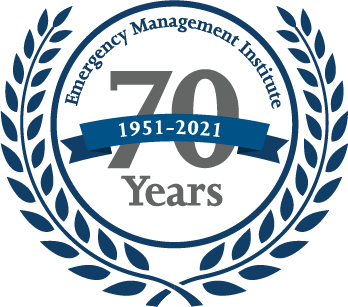 70 Years of Training those Who Serve Our Nation
FEMA's Emergency Management Institute (EMI) is commemorating 70 years of training on April 30, 2021. EMI proudly celebrates its long and distinguished history of supporting the Nation's Emergency Management community

Celebrating 70 Years of Training Those Who Serve Our Nation
To commemorate its long and distinguished history of training our Nation's emergency management professionals, EMI Superintendent Dr. Jeffrey Stern recorded this video message to highlight the anniversary theme "70 years of training those who serve our Nation." The commemoration doesn't end there — EMI is planning events throughout the year that will include memories from previous students, instructors and superintendents, as well as a glimpse into EMI's vision moving forward. Celebration planning continues with more details to be announced soon.
Congratulatory Message From Administrator Criswell
FEMA Administrator Deanne Criswell offers congratulations, discusses the 70 year history of the EMI, and the important role EMI provides to steadily build the Nation's emergency management capabilities and enhance the culture of preparedness.
Fond Memories From Former EMI Superintendent Tony Russell
Former EMI Superintendent Tony Rusell offers congratulations, recalling his time at EMI as the highlight of his FEMA professional career, and reflecting on the dedication and professionalism of the staff to the training mission.
Follow Along During Our Year Long Event
To celebrate its 70 years, the Emergency Management Institute will have a year-long commemoration to include webinars, podcasts, panel discussions, videos and featured speakers providing compelling insights from those who have benefitted from the Institute and its predecessor institutions in Olney, Maryland and Battle Creek, Michigan. Follow our social media channels and FEMA publications to learn about our upcoming events. Our events will highlight our accomplishments in training for the past 70 years across the nation and around the world. Stay tuned and keep checking our 70th Anniversary website for updates.

Monthly events will be announced on our social media platforms. Follow us as we announce events to celebate our 70 years or training.

The institute proudly commemorates its long and distinguished history supporting the Nation's emergency management community

As we look toward 2021 and the 70th year, EMI will continue to innovate in how we deliver the important, essential training and education to further build the profession.

Explore the ways communities of the United States have benefitted from EMI's training and the difference that training has made in their communities.